26 May 2014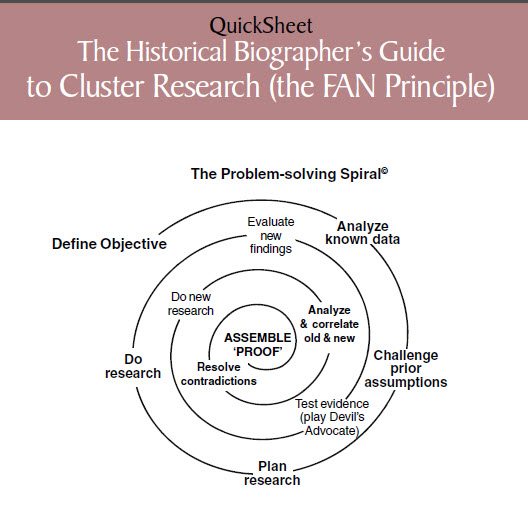 Beginning researchers often anticipate a three-step process: 1. Gather information. 2. Organize it. 3. "Write it up." One critical step is missing from this progression. EE would add:  1a. Do whatever it takes to accurately understand what we've found.
This step is one we need to stop and perform every time we find so much as a shred of information. Neither the organization process nor the writing process will be successful if we do not correctly understand what each piece of information is telling us.
Realistically, Steps 1 and 1a form a circular process. We gather information, then we pick it apart piece-by-piece, in ways such as these:
We analyze every statement for the correct meaning of each word in its time and place.

We analyze the situation(s) involved in that record. We debate whether each is compatible with the place and time. We consider the historical context and whether we need more historical understanding in order to properly interpret what the record is telling us.

We identify each person involved, define the role each played in the event, and consider whether the association might have resulted in additional records that are indexed only in the names of those other people rather than our own person-of-interest. After all, finding one document relative to an event gives us only a one-sided view of it.
Answering these questions will usually send us out to do additional research of a contextual nature. Yet, even then we aren't ready for Steps 3 and 4. That new research for contextual understanding should prompt us to revisit the information we first found in Step 1 and reevaluate the information. Only in this circular process can we ensure that we have interpreted correctly any item that we find.
IMAGE SOURCE: Elizabeth Shown Mills, QuickSheet: The Historical Biographer's Guide to Cluster Research (the FAN Principle) (Baltimore: GPC, 2012), side 4; digital edition available at https://www.evidenceexplained.com/magento/index.php/quicksheet-the-historical-biographer-s-guide-to-cluster-research-4-pp.html.
Blog Term