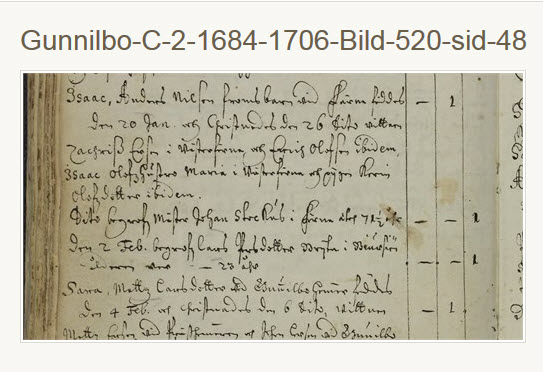 19 January 2014
A researcher from Sweden, raises this issue on EE's Facebook page. Actually, he sidled into the issue sideways, from the angle of "short citations."1 But, as with everything in life, when we design shortcuts, it pays to consider the larger framework of the research needs we need to fill.
Sweden's archives offer millions of historical documents online. Sweden is also one of those with a superbly organized archival system. Each register has an exact alpha-numeric ID. It may even have more than one. We could contact the archives, cite that code or number and they could retrieve the record. (Assuming we or someone else haven't made a typo in that number, of course.)  
So, borrowing one of the several citations Magnus offered—one formatted in a slightly different manner from the entry above—let us ask:
Does Gunnilbo A-1 (1688-1724)  2       work for you as a citation?  Does it fill your needs, as an analytical researcher?  More specifically:
If you were to use someone else's work and they cited their source as "Gunnilbo A-1 (1688-1724)" or "Gunnilbo-C-2-1684-1706-Bild-520-sid-48," would you know what kind of source had provided the information?

Would you be able to form an evaluation of the reliability of the information that came from "Gunnilbo A-1 (1684-1724)" or C-2 ....? (Would you know, without additional research, that the one word given to you, Gunnilbo, signified a parish—or where it was located?)

Would you be wishing that the earlier researcher had taken about 27 seconds more and added a few other words to identify the register by name, not just by the recordkeepers' alphanumeric code? (Are you also wishing the researcher had added a few more words to identify the archives that holds the record?) 
Let's take this What if  one step further. Let's say that the earlier researcher realizes most people aren't experts in the recordkeeping system of the Swedish Archives. Sure, if we're going to do research in Swedish records, we should be. But none of us start out as an expert in anything. So Magnus has helpfully extended the short-form citation:
Gunnilbo A-1 (1684-1724), image 208, page 202 (AID:v72130.b208.2202,NAD:SE/ULA/10346)
Are you now saying Ah, yes! Now it makes sense!?
Probably not. What you're actually thinking is more likely to be Darn! Now I have something else to learn before I can figure out what's been used here! In this example, the researcher has indeed pointed us to a learning tool, a guide we can seek in the National Archives Database (NAD)—once we find the URL, of course—a database in which "SE/ULA/10346 is a reference number to a page that describes where the books are stored in the Swedish Archive."3  
Wonderful. If we're serious researchers in any country, we should be reading archival catalogs to learn how and where records are stored. But, I'm also willing to bet that every reader at this point is thinking, Please, sir! Could you just give me a citation that tells me what we're dealing with? Plain words? Something like
Gunnilbo (Västmanland, Sweden), "Household Records, 1688-1724," A-1:202; Regional Archives, Uppsala, Sweden.
Of course, the extended alpha-numeric citation presents us with another problem. Why is it citing both image number and page number?  If the researcher used the original volume, the standard would be to cite volume, page  or vol:page.  The insertion of the word image suggests that we're dealing with a digital copy, and that opens up another riff of issues, starting with Whose image? After all:
An image copy of a record, offered by one provider, can differ in content and quality from an image of the same record offered by a different provider.

Research standards, almost everywhere, call for identifying the creators of the materials we use. When images are accessed through a database at a website, we need to know at least (a) the name of the database; (b) the name of the website; and (c) the standard publication data (Place/URL : date).

The image number, which usually is usable only for that particular website's version of the register, should then be added after the publication data for the database, in the field one would use for a page number in a published book or a frame from a roll of microfilm.
All things considered: EE would be inclined to use this citation:
  First Reference Note:
Gunnilbo (Västmanlands län, Västmanland, Sweden), "Household Records, 1688-1724," A-1:202; Regional Archives, Uppsala; digital images, "Swedish Church Records," ArkivDigital (http://www.arkivdigital.net/sources/1674?county=20&volume_types=all#h5162 :  19 January 2014), for Gunnilbo A-1 (also numbered 72130), image 208.
Subsequent Note (the shortened citation):
Gunnilbo, "Household Records, 1688-1724," A-1:202.
Agree? Yes? No?
---
Sources:
        1.  Magnus Sälgö, comment, "Evidence Explained," Facebook (https://www.facebook.com/evidenceexplained : posted 11 January 2014).
       2. Magnus's posting also pointed to Salgo60, "Importerat Släkträd 2010 Aug 15," Ancestry (http://trees.ancestry.com/tree/20261258/person/28066891461/citation/140146752525/mediax/1?aid=240350941068&pg=32771%2C32854&pgpl=pid|aid%2Cpid|cid : accessed 18 January 2014), attachment to individual page for "Johan Adamsson Stockhaus," which provides the nice graphic for today's blog posting.
       3. Sälgö, comment, "Evidence Explained," Facebook, 11 January 2014.