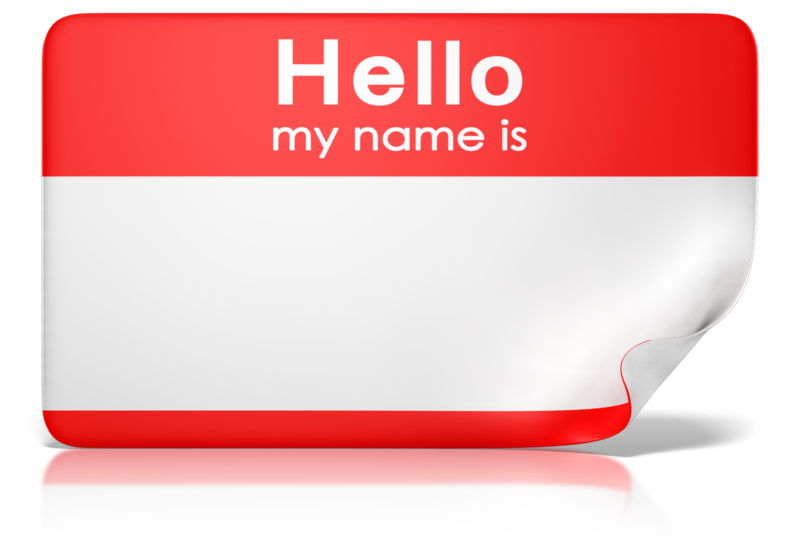 21 February 2015
This is a question EE hears often. The word "cite," of course, implies exactness—whether we're citing a person, a source, or a name that appears in a source. 
On the other hand, as historical researchers, our use of names does not always involve citation, although we may think of it as such. Many times, our reference to a name follows a totally different rule than the one we'd follow if we were creating a reference note that includes a name. Here are some basic distinctions.
When writing narrative
If we pen an article, a book, a biographical sketch, etc., we adopt one consistent spelling for each person. Even if 50 known records spell that person's name in 89 different ways, we use our chosen spelling every time we refer to that person in our narrative. We should, of course, choose that spelling wisely. For example:
When historical people signed their own names, the spelling we find in the signature was likely to be consistent across time, even though the penmanship might tremor with age or illness. That spelling would be the logical one for us to adopt.

If the person changed his or her name at some stage or event in life, making consistency impossible, then we need to provide a bridge from the old name to the new at that point.

The transition is easiest when the individual was a female who changed her name at marriage. At her first appearance in our narrative, we might  introduce her as Margaret "Patsy" Jones, later the wife of John Smith, and then call her Patsy throughout.
If a male made a radical change in his name—to flee problems created under a birth name, perhaps—the problem is more complicated. The individual would typically be introduced as, say, Ralph Snerdly (aka Roger Sullivan). After that, we would discuss him as Ralph during his Ralph days. At the point of the name change, we would create a verbal bridge to connect the old identity with the new—as in, "Fleeing his old identity, Ralph joined the Texas Rangers as 'Roger Sullivan' and spent three decades bringing other miscreants to justice."  From that point forward, we'd refer to him as Roger. Or, we might continue to use his birthname with his new identity expressed as a nickname: Ralph "Roger" ... . 
(You did notice above, did you not, that nicknames are placed in quotation marks, following the so-called sense in which quotation marks are often used?)
When creating database entries
Consistency is fundamental for database entries. Switching an identity or even a spelling from one life stage to another is seldom an option in a database program, although it could be done in the edited version of a print out. (In fact, it should be standardized in a word-processing software, when working with a database that creates narrative rather than raw data.) The standard practice for a database is to adopt one consistent name or spelling and use it throughout data entry. That said, the transcription or abstract of the document, which we also store in our database, should preserve the exact spelling. Any discussions that we create in our database, relevant to that document, could cite the name exactly as it appears in the records, with quotation marks around it.  Example: "After Ralph fled Blue Moon County, the reward notice by which the governor offered a $500 reward for his apprehension, mistakenly identified him as 'Rafe' Snerdly."
When creating source identifications
Source citations—whether they are presented as footnotes or endnotes—call for exactness. Here, we are citing the source, not the person. If the source identifies the principal party as Ralph Sniveley, when we know it should be Ralph Snerdly, our citation does not change the name on the record to the "correct" spelling. To do so would, in many cases, cause problems in locating and retrieving the record. If we feel that citation needs to clarify the identity of the person, then we do that by adding the correction in square editorial brackets or by adding a comment to explain the error. For example:
1850 U.S. census, Puppy Tree County, Hound Dog precinct, page 752, dwelling 23, family 25, for "inmate" Ralph Sniveley [Snerdly]. 
or
1850 U.S. census, Puppy Tree County, Hound Dog precinct, page 752, dwelling 23, family 25, for "Ralph Sniveley ... inmate." Although the name appears as "Snively" on the image of the census page, the individual is actualy Ralph Snerdly. He is identifiable by ... ."
All of which might be summed up as common sense, right?
---
PHOTO CREDITS: "Hello, My Name Is Tag Front," PresenterMedia (http://www.presentermedia.com/index.php?target=closeup&id=11682&categoryid=132&maincat=clipart : downloaded 12 February 2015), image no. 11682; used under license.