To What Do We Attach Our Citations?
16 June 2014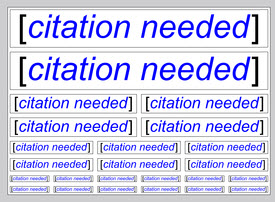 A while back, a new EE user posed a question we'll paraphrase here: 'I'm writing a biography of a nineteenth-century man. For his birth and immigration, every record has a different year. Do I combine all my sources into just one citation for each event? This would make a ridiculously long and unwieldy citation.'
Good question. Easy answer. In our research notes, as well as our published work, citations aren't attached to events. They are attached to "facts" (those things we'd be better off calling assertions). EE 2.20 covers "Citing Several Sources for a Single Fact." But, in the case at hand, our colleague don't have a single fact. She has multiple "facts" for one event.
All this prompts a series of other questions:
Q: Should each date be listed and cited individually?
A: Yes, each date is an assertion. Once you record that assertion in your research notes, you then identify the evidence for that assertion.
Q: Should I avoid bogging it down enter enter the range then cite one or two examples in the same or separate notes?
A: Nahi, nai, ne, nein, nej, ni, no, and non. Not in the research stage. So long as our research is ongoing, a range of dates is meaningless. A clump of sources supporting a date range, with no idea what source supports which exact date, is meaningless. All it does it let us build more speculation upon our guesswork. We derive meaning from our research notes only when we can say:
Source A asserts this,
Source B asserts that, and
Source C asserts this contrary thing.
But
Source A is problematic because ... .

Source B has both reliable and unreliable qualities, specifically yada, yada, yada ... .

Source C is clearly more reliable because ... .
Eventually, of course, our research may resolve the conflicts. If not, then when we reach the writing stage we have all the evidence we need to make a reliable conclusion about a probable date or date range. At that point, we would use the details from our research notes to explain why we have reached a certain conclusion.
Here's a really radical thought: Thorough citations really aren't something that "bog us down." They're actually there to HELP us!
---
IMAGE SOURCE: "Citation Needed Sticker Pack," xkcdstore (http://bit.ly/U0EU64 : downloaded 15 June 2014), 5" x 7" sheets available for sale, each with 24 stickers.